Comments Off

on Miraculous Journey of NLU Ranking To Business Schools To Law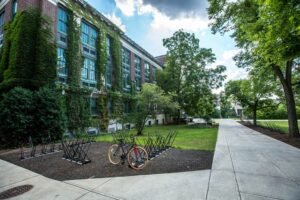 Starting the law journey by giving CLAT, from getting admission in one of the top universities in NLU rankings to landing some other university altogether, we came a long way. And the journey is not over yet; it is still ongoing. This article consists a personal story of the writer wherein she has described her journey from NLU ranking to Business Schools to Law practice.
There are currently 22 National Law Universities (NLUs) where a person can enroll in a five-year integrated law program. The ranking is given to NLUs. CLAT is a national entrance exam. Usually, the top-tier companies hire students from these NLUs. NLUs are very reputable, and a student gets selected on the basis of marks and skills. The NLU ranking is based on faculty, placement, infrastructure, etc. The business school also comes into play because it is a five-year course.
So, usually, the first two years focus mainly on Bachelor of Business Administration. There could be other graduation program options in which a student can choose Bachelor of Art or Bachelor of Commerce. However, the article mainly focuses on business schools. When a person gets into law school for an integrated course, people think that becoming a lawyer is the only option. But that is not true at all. Let's investigate what the writer's perspectives are.
So, just like all law aspirants, the writer wanted to get into one of the top universities of NLU rankings but couldn't get into one because of the CLAT scores. Somehow, she landed in one of the private universities which had a good order in business schools. She took the admission and, without looking back, started her law journey with a great business school. She started socializing even though she was an introvert, started participating in moot court, committees, researching, etc. The third year in, and she still doesn't know whether she wants to get into law practice. People told her getting a degree in a particular field and making a career out of it is the only definite path.
Being a rebel, the writer had some different perspectives. What if she doesn't want to be a lawyer or is just unsure about it yet? It could be anything, so the question here is, why are we restricting ourselves to limited resources or chances when the world is offering you so much? Why can't we be open to opportunities and enjoy the process? This doesn't mean that that the writer is not focusing on the law journey at all. She is doing whatever is necessary. And even if it doesn't go according to the plan, she knows that it was a worth-it journey because she could learn all those things which her school never prepared her. Even now she doesn't know whether she wants to go to law practice or not.
Throughout her journey, she realized a lot of things. One of the things was that it doesn't matter what kind of graduation degree a person has; it all depends on the skills. An example could be, many of you might know some people who have a graduation degree but are not working even though they want to. It's because the recruiter wants people who have skills. When you start working, the recruiters do not have that much time to teach you the skills.
It is widespread when you enter a law firm. They expect the students to learn those skills during their law school journey. It could backfire for those who don't have much information about the law journey. Graduation or an academic degree is just a showpiece, but skills define a person. It could also be that a person could be interested in different fields such as sports but stop following their passion because of peer pressure.
The next thought which the writer realized was that always be open to opportunities. She was always told to pursue her dreams, but what if the dreams that the people told her were about opportunities? And maybe because of those one-time opportunities, you got to know where you exactly belong. You got to understand your interest, your passions, and the most important thing, you will feel proud that you took a risk knowingly. No matter what opportunities comes on a person's path, take them up. If the person starts thinking that I do not belong to this field and so I am not going to take a risk, they are going to miss out on a heck of a lot of opportunities. Think in this manner, "What if you are meant to be in that different field but didn't dare to grab it?"
So yes, the writer still doesn't know whether she wants to go for law practice or open her own start-up company or business or go into some different field altogether. And it is completely fine because she is not restricting herself to one thinking or one opportunity. She is trying out new things daily in life and her career. It doesn't matter whether you are competent at school, but it does matter whether you are smart in life. And to get smart in life, a person needs skills. Being open to opportunities is gonna reveal so many things about yourself.
Law journey will help a person in networking, communication, writing, speaking, and researching skills. These are the essential skills that every person should focus on. It is a rewarding journey if you take it seriously. The best way is not to give up midway and enjoy the challenges. So, the writer's focus is to have skills, be open to opportunities and choose growth over anything in life. That is what she is trying to convey through this article to the people out there.
So, what are your views on this? Comment below.