Comments Off

on What Is The Right Age For Preschool?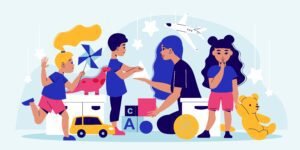 As our society becomes more technologically advanced, the need for preschool education is becoming more and more necessary. In the past, children would spend their time outside playing with other kids their age, but now parents face the challenge of finding a quality preschool that will not just teach their children basic skills but also prepare them for life in today's world. The question of when to send your child to preschool may seem simple enough, but it has a lot to do with what your goals are as a parent and what you think your child should be able to do at each age.
What Is The Right Age For Preschool?
How to Socialize Your Kids in Preschool
Things That Make a Difference in Your Child's Development
What Is The Right Age For Preschool?
Preschool is an important part of a child's early development and education. While there is no specific age at which a child should begin preschool, there are a few general guidelines that can help parents make a decision about when to enrol their child.
The American Academy of Pediatrics (AAP) recommends that children start attending preschool between the ages of three and four years old. This is generally considered the minimum age required to receive the most benefit from the program. However, many experts believe that children as young as two or even one year old can benefit from preschool.
There are several reasons why early childhood education can be beneficial for young children. Preschoolers learn how to socialize and interact with other people, they learn how to think critically and solve problems, they develop motor skills, and they learn how to read and write. In addition, preschoolers who attend preschool are more likely to have better academic performance than their peers who do not attend preschool.
Parents should consider several factors when making the decision about when their child should start preschool. These factors include the child's age, temperament, learning style, and home environment. Parents should also consult with their paediatrician before making
Pros and Cons of Preschool
Pros for Preschool: 
Preschool can help children develop early skills, such as communication, problem-solving, and social interaction.

It can also teach children about their environment and the world around them.

Many preschools have quality programs that meet the needs of both children and their families.

Some children who attend preschool later in life report that it was a valuable experience that helped shape their future.
Cons 
for Preschool
: 
There is no single answer to whether or not preschool is the best age for a child to begin formal schooling. Some parents choose to enrol their children in preschool because they feel it's important for them to start learning at an early age, while others find that their child is ready for kindergarten or first grade by the time they are enrolled in preschool.

Some children who attend preschool later in life report feeling too tired or busy after school to enjoy the experience.

Some parents believe that their child is too young to be attending school full time, while others feel that they should wait until their child is older before enrolling them in school.

Many preschools have a minimum age requirement for enrollment, which may limit the number of families that can afford to send their children
How to Socialize Your Kids in Preschool
Preschool is a time for socialization, which means getting your kids used to being around other kids and learning how to interact with them. Here's how to do it:
Set ground rules early on. Make sure your kids know what is allowed and what isn't, and be consistent in enforcing them.

Teach your kids how to share. Start by demonstrating how to give and receive a toy politely. As they get older, encourage them to share their toys with other kids as well.

Encourage positive interaction. Help your kids learn how to have fun without being destructive or aggressive. This will help them develop good social skills in their preschool years.
Things That Make a Difference in Your Child's Development
Preschool is a time when your child's brain is growing and developing rapidly. Here are five things that will make a difference in your child's development: 
Quality time with you and your partner. Children learn best when they have consistent, quality time with their parents. This can be achieved through daily interactions, such as playing together, reading stories together, talking about the day's events, or just cuddling on the couch.

Exposure to different cultures and languages. Preschoolers benefit from exposure to different cultures and languages. This can be done through attending multicultural preschools or by exposing your child to various books, songs, and other forms of media from around the world.

Regular physical activity. Physical activity helps stimulate brain growth and development in children ages 3-5 years old. Find ways to make physical activity fun for your child, such as playing tag or going on walks outside.

Access to quality education materials. Children need access to high-quality educational materials in order to learn effectively. This can be done by subscribing your child to educational journals or reading magazines that focus on math, science, history, etc.
Types of Preschools
Preschools are available for a variety of ages, from infants to pre-kindergarten. There is no one right answer when it comes to the right age for preschool. However, some experts believe that children between 3 and 5 years old are ready for preschool.
There are pros and cons to waiting until a child is older to begin preschool. On the plus side, waiting can give your child more opportunities for socialization and learning from experienced adults. It can also help ensure that your child is developmentally on track by providing them with age-appropriate activities and instruction. Additionally, older children may be better able to handle more complex curricula than younger children.
However, there are also disadvantages to waiting too long to enrol your child in preschool. Young children may not be ready for more complex tasks such as writing or math, and they may not have the social skills necessary to thrive in a classroom setting. Additionally, many preschools start at 4 or 5 years old, and this is when many children start kindergarten. If you wait too long to enrol your child in preschool, they may not be able to fit in with their classmates or get the best education possible.
Also, read
Why Are Reading Books In Preschool So Important?
what education is needed to become a high school teacher
Conclusion
Preschool is a time of exploration and learning. It's also a time when children are developing their social skills, motor skills, and cognitive abilities. As such, it's important that the preschool you choose is suited to the needs of your child and meets their developmental milestones. There are many excellent preschools in existence that offer quality care for your child, so don't be afraid to investigate what's available before making a decision.