Comments Off

on How to Learn English Online: The Effectiveness Of Virtual Learning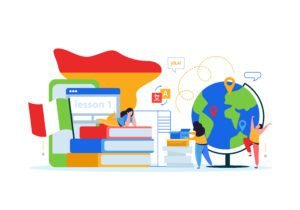 There are so many benefits of learning English. It can increase our career opportunities; we can earn more and have a better life. But the tough thing is to learn and speak English fluently. In this blog, you will learn about the best way to learn English online-virtual learning.
Why It Is Important To Learn English
The Effectiveness of Virtual Learning
History Of English
The English language has a long and complicated history – one that is often fascinating to explore. If you're interested in learning more about where English came from, how it has changed over time, and how it is used in different parts of the world today. Our blog section on the history of English is a great place to start. In this section, you can find articles on everything from the origins of English words to the development of English as a global language. History Of American English. If you're particularly interested in how American English developed and evolved, you'll find articles on this topic in our blog section on the history of American English. Learn more about how different dialects of American English came to be, what makes them unique.  Whether or not there is such a thing as "American-English grammar."
History Of Linguistics. Linguistics is the scientific study of language – does that sound interesting to you? In our blog section on the history of linguistics, you will find articles about everything from linguistic theory and spoken languages to historical forms of writing systems. You're sure to learn something new!
Why It Is Important To Learn English
In the modern world, English is considered to be the lingua franca or common language that is in use. It is in use by the people of different countries and backgrounds in order to communicate with one another. This means that being able to speak and write English fluently can open up a lot of doors. In both professionally and personally.
One of the great things about learning English online is that it can be done from the comfort of your own home, at your own pace. There are a variety of online courses and programs available that can cater to your specific needs and goals. Whether you want to learn English for travel, work or simply for personal enrichment. Then, there is an online learning option out there for you.
Many people are hesitant to try learning a new language online as they worry it will not be as effective as learning in a traditional classroom setting. However, research has shown that virtual learning can be just as effective as traditional methods, if not more so. A study by the British Council found that students who learnt English via an online course made more progress than those who were taught in a face-to-face setting.
So why is learning English online so effective? There are a number of reasons. First, online courses provide the learner with a more flexible learning environment. Learners can work at their own pace and can increase or decrease their study load according to how much time they have available. Secondly, online courses provide learners with 24/7 access to the material.
This means that if you find yourself with a few hours free during your lunch break, you can head home and carry on where you left off in your lessons last night. Thirdly, online courses are also helpful for learners who live in remote areas where there are no local language schools. By learning online, language students can learn from the comfort of their homes without having to worry about travelling long distances each day. Finally, most online English courses offer a variety of learning approaches and activities which are fun.
The Effectiveness of Virtual Learning
There are many benefits to learning English online. You can learn at your own pace, in your own time, and in the comfort of your own home. You can also choose the type of learning that suits you best – whether it's a structured course or more informal, self-directed learning.
But how effective is online learning? Does it really work?
A recent study by the British Council found that people who learn English online improve just as much as those who take face-to-face classes. In fact, in some cases, online learners even made greater progress than their offline counterparts.
So if you're considering learning English online, rest assured that you'll be just as effective as if you were taking a traditional class. And if you're not sure where to start, we can help you find the right course for your needs.
Also, Read
Online BBA degree is it good or bad to do
How to find an online law internship for 2022
Conclusion
Overall, learning English online can be an effective way to improve your language skills. Virtual learning can provide you with the opportunity to practice English in a variety of different ways and receive feedback from experienced teachers. It can also be a convenient and flexible option if you have a busy lifestyle. If you are considering learning English online, make sure to do your research and choose a reputable course that meets your needs.