Comments Off

on Difference between Lawyer and an Advocate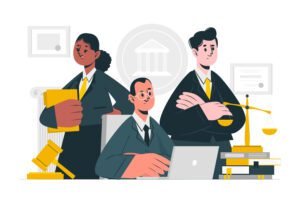 Introduction:
In the field of law, many people use these terms very often like lawyer, advocate, and judiciary but they confuse between these terms. What profession did Mahatma Gandhi hold? Was he a lawyer, a barrister, an advocate, or an attorney? There's a huge difference between these three terms. Attorneys, barristers, and solicitors all fall under the term 'lawyer', which is very general in meaning.
Whereas, Advocates, on the other hand, help clients with a legal situation by representing them in court and arguing for compensation or release. And since lawyers have just graduated from law school, they do not yet have the experience necessary to be advocates, as they have just graduated from law school. Whereas advocates have more experience than lawyers in the field.
Who is a Lawyer?
In simple terms, lawyers are just the students who have graduated from law school or have a law degree. An individual who has graduated from a law school, whether it was an LLB program or a 5-year law program, is referred to as a lawyer.
Do only lawyers with law degrees have the right to represent their clients in court? Not necessarily. If a lawyer has only a law degree, it does not mean that he is capable of representing his client in a courtroom.
Also Read:
Who is an Advocate?
Advocates are the ones who have passed their bar council and can represent their clients in the courtroom. An advocate is when a lawyer becomes a member of a bar association.   As a lawyer, an advocate must be registered with the bar council. Advocates are allowed to testify in court. These are basically the main differences between lawyers and advocates.
Who is a barrister?
Lawyers are also known as barristers. After graduating from any law school in India, you become a lawyer, whereas after graduating from an English law school you become a barrister. The barrister may also act as a legal representative. This means that a lawyer and a barrister are only two different terms, but neither of them can actually represent a client in court.
Difference between Lawyer and Advocate
Now, after reading the definitions of lawyer and advocate, so, now we can differentiate between these two terms clearly. The main differences between these two terms are:
Those who are pursuing law or have graduated from law school are called lawyers and Lawyers who have qualified for the bar and enrolled themselves in the Bar Council of India are called advocates.
In order to represent his client in court, a lawyer needs to enroll himself in the bar council. And Attorneys who have already registered with the Bar Council of India are ready to represent clients in Court.
Lawyers are new to the field and they have less experience, whereas the experience of advocates is great than that of lawyers.
Lawyer charges less because they can just provide legal advice to their clients, whereas the charges or fees of advocates are very high because of their knowledge and experience in the field.
A lawyer cannot be called with the name of an Advocate but an Advocate can be called with the name of a Lawyer.
How can a Lawyer become an Advocate?
Despite having completed his studies in law, a lawyer does not have the right to represent his clients in court. Lawyers must meet certain criteria in order to become advocates.
Imagine you have finished your no degree and now you are a lawyer. The bar council exam of India is required after you have earned your undergraduate degree. The lawyer must pass this exam in order to be listed on the Bar Council of India list. Your license to practice in court will be provided by the bar council at that point. Lawyers gain the ability to represent their clients in court by completing this process.
An advocate can be known by three different terms. They are:
Advocate
Senior advocate
Advocate on record
Advocate – A lawyer is an advocate if they hold a law degree and belong to the bar council of India. The bar council has authorized him to appear in court and represent his client.
Senior Advocate- Likewise, senior advocates, those with law degrees, are able to represent clients in court. An advocate who is designated as a senior advocate by the Supreme Court or High Court is called a senior advocate.